WHAT IS SOCIAL MEDIA
​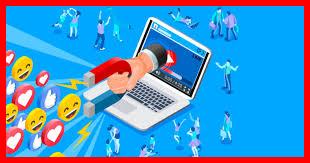 Social media is web-based communication tools that are designed to allow people to share content quickly, efficiently, and in real-time.
Some suggestions to make your interaction on social media/website effective
Make your message "short and sweet".
Be very active on your social media or you will lose your followers.
Focus message on who you are trying to influence and not about you.
Engage your audience to comment on your social media postings.
Use a very catchy image to attract attention.
You must always be aware of your brand and put your "best foot forward". Your message should always have a positive tone.
Remember to keep your website current, relevant and interesting.
WHAT IS E-BLASTS
​

E-blasts are a District A16 Lions distribution list for Lion's emails. The email goes to all District A16 Cabinet members including Cabinet Chairs, District A16 Honourary Committee members, the President and Secretary of all A16 District Lions Clubs, and the Leo Advisors. A new database is created each year once the District A16 Directory is developed.
Each Lions Club should have determined which person in their club would forward the eblasts to their club members in a timely fashion.
It is an efficient tool to have message sent out to all our members in District A16.
Remember this is just one tool in your marketing plan to get your information out. Other tools such as website updates, social media, A16 calendar submission should also be used to get total coverage of your information.
DISTRICT A16 CLOSED FACEBOOK GROUP
This is a social media tool to share the good news about your club's activities. It is a closed group for Lions District A16 members only but allows us to share our club's activities and service projects. Click on the link below if you would like to join.
https://www.facebook.com/groups/lionsdistricta16
DISTRICT A16 FACEBOOK PAGE
I manage this Facebook page for the District Governor. I post information about our District and Lions International and share with our Closed Facebook Group. Click on the link below if you would like to follow this page.
https://www.facebook.com/lionsdistricta16
DISTRICT A16 TWEETER ACCOUNT
I manage this Tweeter account for the District Governor. I post information about our District and Lions International and encourage more followers to see this information. We have 331 followers presently. Click on the link below and if you would like to start following our Tweeter account.
https://twitter.com/A16LionsClub
DISTRICT A16 WEBSITE CALENDAR
The District A16 website calendar is located on the District A16 website. This calendar has all the formal District A16 meetings for 2019 2020 on it and all the Lion Clubs' activities if they send the information to me at celtic.cross@sympatico.ca. or click on the link on the website and Lion Micheline Lush will add it to the calendar. If you have not visited the calendar, then click on the link below.
http://www.lionsa16family.org/events.html
If I can assist you in any of the above areas,
please don't hesitate in contact me.
Linda Heeps
Cabinet Chair, Communication & Social Media
(705) 457-2064
celtic.cross@sympatico.ca