Since its founding, Lions have dedicated themselves to building peace and international understanding across borders and generations. Watch the newest Centennial video to learn how Lions' reach has grown across global communities over the past 100 years
With three levels of participation, there's an opportunity for every club to get involved. Choose a project from the list below or develop your own to address specific needs in your community.
Level 1 - Raise your Community Visibility
Examples:
Post new Lions signs
Donate a park bench
dedicate a statue
Sponsor a fountain in a local park
Level 2 - Provide a Community Gift
Examples:
Refurbish a park or playground
Build a footbridge over a busy road
Fund resources for the visually impaired
Donate a vehicle to a community organization
Level 3 - Make a Community Impact
Examples:
Build a clinic
Expand a library or school
Develop a training center
Equip an area hospital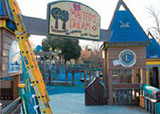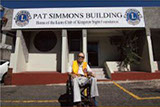 All Legacy Projects should be identified with a sign or plaque
indicating the project was donated by your Lions club.